As you wrap up any last minute year-end giving, I wanted to share with you a brief story about a recent Sunday service…
One of my favorite things about our church is prayer time on Sunday mornings.  It's not uncommon for us to spend 30 minutes hearing and praying for needs along with celebrating God's goodness in the lives of our congregation. We have wept with people over the loss of loved ones and celebrated with others who have found a job or had a baby.  The Sunday before Christmas, in particularly, was a special one.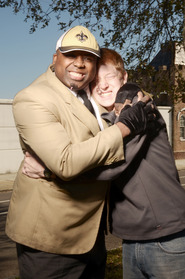 Andy (A.K.A. Superman) is in his late twenties, is autistic and has the biggest heart of anyone you ever met.  Kris is in his early twenties, just finished Tulane graduate school and is off to an internship on the east coast.  Andy and Kris were roommates.  When it came time to pray, Andy, in typical fashion, stuttered through a semi-coherent prayer for Kris on his last Sunday with us.  About half way through, Andy began to sob.  Kris already had tears and snot rolling down his face (he was unsuccessfully attempting to keep his composure as he played the keyboard in the background).  Before Andy's prayer ended he had Kris in a bear hug praying a blessing over him.  There wasn't a dry eye in the sanctuary.  For this unlikely duo, the Gospel is what connected them and allowed them to share such deep friendship. 
Ms. Patricia was also in the crowd that day and asked for prayer for a financial bind she found herself in.  After working diligently to meet her modest mortgage payment, she still found herself behind.  Prompted by God, Pastor J.B. arose and challenged the congregation with a couple of passages from scripture and said, "not to sound heretical, but this isn't something we need to pray about.  We need to do something about it.  You've heard your sister's need."  He encouraged us to give generously and joyfully and as a congregation. With a portion of the offering collected that Sunday, we were able to meet her need.  I was reminded of the first church in Acts where they shouldered the burdens of one another. 
Space and time do not permit me to share all the amazing ways God has moved in our midst this year.  I'm thankful for all of you who have stood by our sides and have made investments of time, treasure and talent to see God's Kingdom, peace and presence prosper in our neighborhood. 
May this new year be one of blessing and closeness to Christ for you and your family.
Sincerely,
Ben McLeish